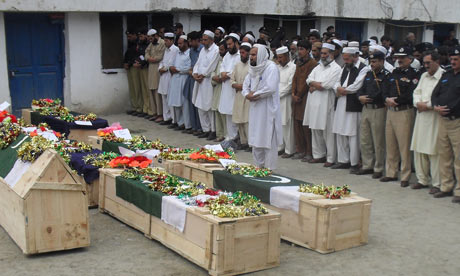 Funerals take place in Upper Dir for Pakistani forces killed in clashes with Islamist militants. Photograph: Rohullah Shakir.
I'm posting more announcements of our shaheed (martyred) who are fighting for our country, our people and our freedom.
Sunday May 22nd 2011
'Armed militants stormed into a naval airbase here on Sunday night, destroyed three aircraft and killed at least five people —
four navy personnel
and a foreigner whose nationality could not be ascertained.' (
Dawn
)
Thursday June 2nd 2011
'Islamist militants believed to have come from
Afghanistan have fought a second day of battles with Pakistani security forces..
The fighting began when militants crossed into Pakistan on Wednesday. By Thursday evening,
25 soldiers
, 35 militants and three civilians had died in fighting, according to the regional police chief, Ghulam Mohammed.' (
Guardian
)
Thursday June 9th 2011
'
Eight soldiers
and 12 militants killed at security checkpoint in Waziristan, according to intelligence officials' (
Guardian
)
Note: I can only provide you with names if I find them in the news articles I browse. If you think something needs correcting, please do leave me a message. I try my best.
We should all pray for these men and their families and recognise their courage and sacrifice for their country.
Are you related to a soldier? Do you have memories of a loved one dying in a war? Do you have a message for the soldiers fighting? Leave me a comment.